Our Office
At The Virginia Institute for Surgical Arts we offer a modern, comfortable and safe office for all your ENT (ears, nose and throat) medical needs. Conveniently located in the Chantilly are of Virginia, our practice is easily accessible from Chantilly Highlands, Fair Lakes, London Towne, Centerville, Fairfax, Fairfax Station, Oakton and Vienna in addition to many other Northern Virginia locations. Built and designed upon a tradition of excellence, our practice combines the utilization of state-of-the art equipment, highly trained staff, a premier facility and Dr. V's exceptional credentials and experience to provide you with complete patient care.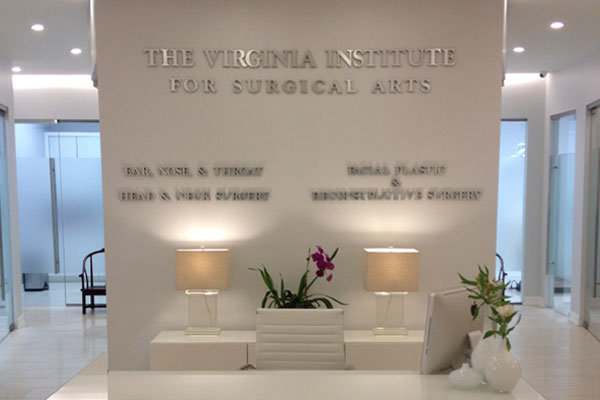 Our Medical Director, Dr. V (Dr. Trang Vo-Nguyen), prides herself in providing patients with the latest treatments for ENT conditions. Dr. V is triple Board Certified by The American Board of Internal Medicine, The American Board of Otolaryngology – Head and Neck Surgery, and by the American Board of Facial Plastic Surgery. Although Dr. V is highly trained and experienced, she takes the time needed to personally attend to each patient that walks through our doors. She is known for her gentle demeanor and welcoming approach.
At the Surgical Institute for Surgical Arts, our mission is to offer each patient access to exceptional physician credentials and expertise, in a safe, modern and comfortable environment while maintaining the continued commitment of achieving the highest levels of patient satisfaction and we hope to share this with you. Please don't hesitate to contact our practice today to schedule your appointment with Dr. V. We know you'll feel welcome at our practice and we look forward to getting to know you!